Online Master of ArchitectureOnline Master of ArchitectureOnline Master of Architecture
Help Design a Sustainable FutureHelp Design a Sustainable FutureHelp Design a Sustainable Future
Welcome to the intersection of technology, the arts, and design.
Rochester Institute of Technology's (RIT) online master of architecture (M.Arch.) is STEM-designated and one of the first architecture degree programs to be built intentionally for and available online. Offered through Golisano Institute for Sustainability, the program is shaping the next generation of architects to design sustainable buildings and communities.
The online program welcomes creative thinkers from all professional and academic backgrounds; you do not need experience in architecture to apply.
We offer two plans of study:
Standard Pathway:
105 credits | 44 months
For students with limited to no background in architecture
Advanced Standing Pathway:
78 credits | 32 months
For students with a bachelor's degree related to architecture
NAAB-Accredited
The master of architecture program from Golisano Institute for Sustainability at RIT is accredited by the National Architectural Accrediting Board (NAAB).
Created Specifically for the Online Space
The online M.Arch. program track is intentionally designed with the unique needs of online students in mind. The program enables students to become well-prepared architects from wherever they live by expertly combining online, hands-on, and in-person learning. RIT also offers an on-campus pathway. Find more information about this option here.
Curriculum
Sustainable architecture is a vital component in planning the communities of tomorrow: It requires less land development, uses environmentally friendly materials, and is energy efficient. RIT prides itself on preparing the professionals who will make our world more sustainable, which is why our online M.Arch. program track focuses on designing buildings with people, space, and the environment in mind.
Through online course work and hands-on studio time, you will explore subjects such as integrated building systems, urban planning, industrial ecology, and more. You can also select electives based on your interests and career goals.
All teachings are grounded in design around four core areas:
It's time for buildings, climate, and context to connect.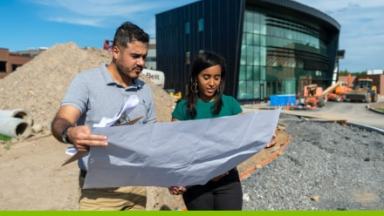 Create a more sustainable and resilient world by designing innovative buildings with reduced energy consumption and carbon footprints.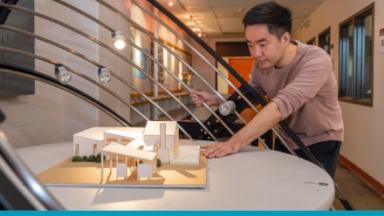 Develop an understanding of the implication of technology on both the design process and final product.
Design with the complexity of the urban environment in mind by considering architecture's unique relationships with community needs, urban landscapes, and environmental health.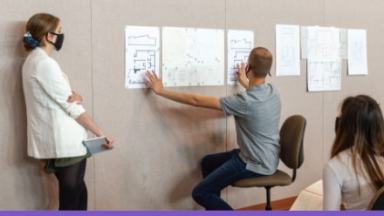 Integrated Learning and Practice
Gain hands-on experience during studio time, professional cooperative education experiences, and in-person immersions.
Explore the Standard Admission Pathway curriculum.
Explore the Advanced Standing Pathway curriculum.
Licensure
RIT architecture online fulfills the education requirements needed to pursue a career in architecture. In addition to completing the program, you will be required to gain relevant work experience and take the Architect Registration Examination to become a licensed architect.
Requirements vary by state and country. Learn more about licensure requirements.
The World Needs Architects Like You
Earn your M.Arch. degree online and go beyond architecture as we know it.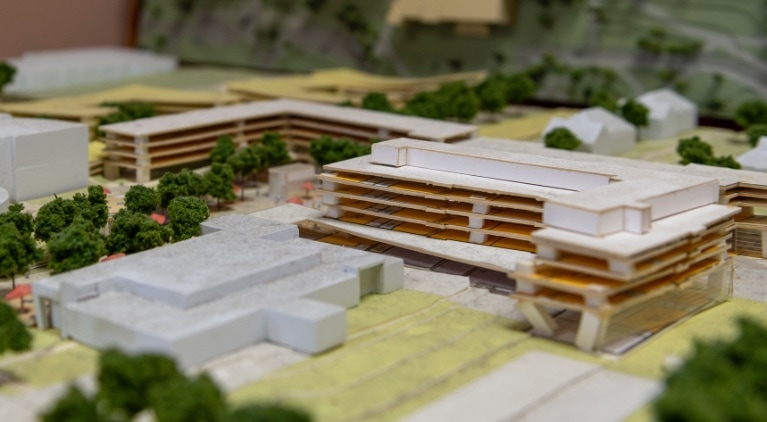 Architecture Online
Architecture is constantly evolving, and we're changing with it. We have designed our program so that you can have the flexibility of attending weekly classes and completing course work online, while also participating in the traditional hands-on experiences necessary for an architecture program.
Taking a hands-on degree virtual.
Design and Studio Time: You will complete studio time locally using in-home equipment to participate in a blend of live video sessions, asynchronous course content, recorded and text design instruction, interactive critiques, and site visits.
Professional Cooperative Educational Experience: You will complete a professional co-op in your community where you will work with local architectural and design firms, apply your newly learned skills, and gain experience for your resume.

Immersions: During multiple in-person immersions on the RIT campus, you will have opportunities to use our state-of-the-art facilities, collaborate with your classmates on projects and competition, and participate in critiques.

Global Experience: You will spend up to 10 days studying the intricacies of culture, design, and architecture in a foreign city. The Global Experience is required; credits are included in the elective total.
*Note: Alternatives for completing the requirement are available per the Department of Architecture's Global Experience Policy.

Thesis: Your thesis allows you to integrate everything you learn into a comprehensive final design- or research-based document focused on a topic of your choosing. You will present your thesis during your final year.
Discover how we transformed a master of architecture into an online program.
Join a diverse, forward-focused community.
You're on a Journey to Become an Architect.
We're with You.
Request information to get connected with a dedicated admissions counselor who can answer all of your questions.