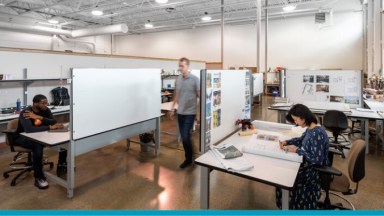 This is where your ideas come to life. During in-home studio time, you will design and create structures that align with the concepts you learn in your courses. Each concept gradually builds on one another, so you will graduate with the full set of skills needed to create innovative buildings of the future.
You will utilize primary design elements to create projects such as:
2D and 3D design compositions
Building design proposals
Schematic design concepts that accurately communicate architectural solutions
Adaptive reuse schemes to repurpose existing buildings
Design explorations that focus on site physiognomy
Urban context investigations
Studio course work will include live video sessions, asynchronous course content, recorded video instructions, and interactive discussions and critiques. You will be required to purchase a document camera and additional supplies for your studio courses.